Dr. Michael C. Threatt discusses the Future of Housing, Technology, & New Book during his PHIA Meetup Podcast Interview
January 16, 2023
Human Rights - Social Gov originally published at Human Rights - Social Gov
Cover Feature for Exeleon Magazine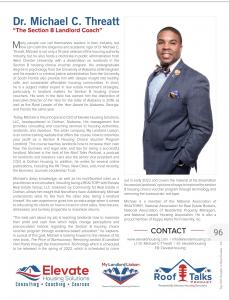 Top 100 People in Real Estate Magazine Article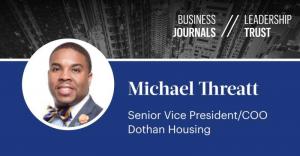 Business Journal Leadership Trust Banner
Influential Leader of the Year was recently featured in the Top 100 People in Real Estate Magazine and was selected to the Business Journals Leadership Trust
My thought process has been to find a solution to a problem and capitalize on it as an entrepreneur. I constantly look for different ways to manage innovation and creativity."
— Dr. Michael C. Threatt
DOTHAN, AL, UNITED STATES, January 6, 2023 /EINPresswire.com/ — Many people call themselves industry leaders, but few can claim Dr. Michael C. Threatt's diligence and academic rigor. He is one of the best and brightest thought leaders to hit the scene in recent years.
Dr. Threatt is the Principal & CEO of Elevate Housing Solutions, LLC, Senior Vice President & COO with Dothan Housing (DH), and a licensed REALTOR® with Community 1st Real Estate in Dothan, AL.
Business Journal Leadership Trust Selection

Dr. Threatt was selected to join the Business Journals Leadership Trust based on his experience, leadership, and influence in the affordable housing industry. He is responsible for the day-to-day operations of DH. This includes analyzing business intelligence data to support the long-term sustainability of the agency and its Moving to Work (MTW) Landlord Incentives Cohort #3 implementation.
In 2019, he won the Executive Director of the Year Award for implementing his Housing Authority of Tomorrow model. Since 2019, he has won two Website of the Year Awards (2019, 2022), one Publication of the Year Award (2022), and one Best Practice of the Year Award (2021).
Top 100 People in Real Estate Magazine

The selection of Dr. Threatt for the 2022 Top 100 People in Real Estate Magazine is one of the crowning achievements in his career. Accordingly, only America's most transformational trailblazers, changemakers, and dreamers receive this selection to be featured in this real estate magazine.
With these extremely high standards for selection, only extraordinary leaders receive this honor as the most exclusive and elite level of the Top 100 People in Real Estate Magazine. Dr. Threatt is a trendsetter who has found a solution to the affordable housing problem through the Section 8 Program.
He is also the author of the game-changing book on the Section 8 Program, The Price of Bureaucracy: Removing Section 8 Landlord Pain Points through the Investment in Technology. The release of this book is a culmination of his research and his career dedicated to working within the real estate industry's public, private, and nonprofit sectors for over 17 years.
He also holds a doctorate in public administration (DPA) from West Chester University (Pennsylvania-WCUPA), with a dissertation on landlords in the Section 8 Program. In 2021, while at WCUPA, he was awarded the 2021 DPA Student of the Year for his dissertation research.
Influential Leaders of the Year Magazine

Exeleon Magazine is a platform for leaders, entrepreneurs, and organizations from across the globe to showcase their stories. Being selected as the Cover Feature for Exeleon Magazine's 2022 Most Influential Leaders in Real Estate is an esteemed honor for Dr. Threatt.
As a thought leader, Dr. Threatt navigates through adversities in a forward-looking approach. He shares, "My thought process has been to find a solution to a problem and capitalize on it as an entrepreneur. I constantly look for different ways to manage innovation and creativity. Whether it is a large-scale change in direction, structure, or major investments in technology."
PHIA Meetup Podcast Interview

During his podcast interview with the PHIA Meetup Podcast Host, Madelyn Peay, Dr. Threatt discussed change management, technology, and the agency's three-year business strategic plan, Purpose 2025.
Dr. Threatt explained why public housing authorities (PHAs) should implement an entrepreneurial C-Suite corporate business model. He explained the success of DH and the cost-effective benefits and tangible results. Dr. Threatt added that PHAs should move beyond the status quo of annual and five-year plans but should create business strategic plans to help push realistic goals and objectives instead of the bureaucratic red tape of just checking the box.
He also discussed how DH converted its entire portfolio to the Section 8 Program by converting four properties to the Rental Assistance Demonstration (RAD) Project Based Voucher (PBV) program. These conversions include a 34-million mixed-finance, low-income housing tax credit (LIHTC) redevelopment. He also stated that DH finally converted its last public housing development to become a "Section 8 voucher only" agency.
Additionally, he spoke about how DH adopted its new slogan, "You Are Our Why," after being inspired by the Comedian Michael Jr. "Know Your Why" YouTube video. He later described how staff came up with DH's values acronym L.O.V.E.D., which stands for Listening, Opportunity, Versatility, Empowerment, & Diversity.
In addition, Dr. Threatt elaborated on DH's intentional inclusion initiative to get their input and ensure that they felt a part of the agency's new direction. He mentioned DH's focus on Diversity, Equity, Inclusion, & Belonging (DEIB).
Dr. Threatt talked about implementing shared services agreements between DH and its instrumentalities for resident services, nonprofit real estate development, and property management.
He also talked about not spending COVID-19 funding on salary like most PHAs but "thinking outside of the box" by implementing a digital transformation initiative for new hardware, such as docketing stations, laptops, and investing in new modern-day (cloud-based) housing software.
Based on the digital transformation and DH's new business model, it has enhanced its efforts to attract, recruit, and retain a talented and diverse workforce. Although, he mentions that some of their challenges have been talent retention.
Dr. Threatt later spoke about the paradigm shift of PHAs investing in technology to streamline their day-to-day operations for all departments. He concluded the interview by stating that the future of affordable housing will consist of Section 8 vouchers and low-income housing tax credits.
About Elevate Housing Solutions, LLC

Dr. Threatt is the principal and CEO of Elevate Housing Solutions, LLC. Elevate Housing Solutions, LLC is a management firm that provides Section 8 Program consulting services to real estate investors, developers, landlords, nonprofits, property management companies, and PHAs.
Under the leadership of Dr. Threatt, the firm provides consulting and coaching for PHAs on how to Attract, Recruit, and Retain landlords in the Section 8 Program. As The Section 8 Landlord Coach™, his firm provides consulting and coaching for landlords and real estate investors on how to create positive cash flow, increase profit, and maximize their return on investment (ROI) by participating in the Section 8 Program.
For more information, please visit Elevate Housing at https://www.elevatehousing.com/.

###
Dr. Michael C. Threatt
Elevate Housing Solutions, LLC
+1 205-552-9491
email us here
Visit us on social media:
Facebook
Twitter
LinkedIn
Instagram
YouTube
The PHIA Meetup 16 – Interview with Dothan Housing's Senior Vice President & COO, Dr. Michael C. Threatt, Dothan Housing, AL


Article originally published on www.einpresswire.com as Dr. Michael C. Threatt discusses the Future of Housing, Technology, & New Book during his PHIA Meetup Podcast Interview
Human Rights - Social Gov originally published at Human Rights - Social Gov